Joyce Farms, Winston-Salem, NC
Welcome Back to Flavor®
About Joyce Farms
Family-owned, North Carolina-based Joyce Farms was founded in 1962 by Alvin Joyce, and is run today by his son, Ron, and his grandchildren, Ryan and Stuart, at the helm. When Ron took over in 1981, he found that industrial agriculture and modern farming methods were not producing the best flavored food and the highest nutrition. He turned his focus to quality and flavor, which ultimately shifted the company's focus to old-world heritage breeds that could and would thrive in pasture-centered environments.
The first was their Heritage Poulet Rouge Fermier™ chicken from France, which has become renowned among top chefs nationwide. Today, the Heritage line has grown to include Heritage Guinea, Heritage Pheasant, Heritage Aberdeen Angus Beef, and most recently, Heritage Gloucestershire Old Spot Pork. Every animal is raised on a small family farm and with one guiding imperative: That there is nothing added EVER – no pesticides, animal by-products, hormones, growth stimulators or antibiotics.
Joyce Farms' unique products empower chefs and consumers alike to create memorable meals, centered around proteins that are not only full of flavor and nutrients, but that also protect animal welfare. Through their Honest With Nature™ regenerative agriculture program led by Chief Ranching Officer Dr. Allen Williams, Joyce Farms is at the forefront of a larger, growing movement happening worldwide. This means that they focus on nature and natural habitats, with a strong emphasis on soil health, improving the carbon cycle, and recreating the natural ecosystem in which animals and land thrive as they did years ago (termed biomimicry), by avoiding tilling, practicing animal integration and encouraging adaptive grazing.
As a result, Joyce specializes in robust poultry, beef, pork, and game, that far exceeds what's available with modern agriculture and commercial factory farming. Their slogan, Welcome Back to Flavor ®, is a culmination of their mission: To return to old world breeds and farming methods in order to produce the very best all-natural and heritage meats for top chefs, artisanal butchers, and educated consumers, nationwide.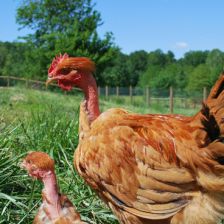 "Welcome back to flavor and the way meat and poultry used to taste."

Joyce Farms Team
In Season Now
From Joyce Farms
EXPLORE THE WORLD OF BALDOR