Natalie's Orchid Island, FORT PIERCE, FL
Award Winning, Squeezed Fresh Florida Juice
About Natalie's Orchid Island
In 1989, the story of Natalie's begins in an orange grove with a mother pulling her daughter in a red wagon. Marygrace Sexton's husband, Bobby Sexton, a fourth-generation Florida citrus grower, dreamed of producing fresh squeezed juice but was too busy running the family's packing house to pursue it. Marygrace knew the superior qualities of Florida citrus firsthand. Though she had exclusive access to the country's best citrus, she didn't have the same access to fresh juice unless she squeezed it herself or purchased it from a roadside stand. With the world's best fruit at her fingertips, she was determined to bring her husband's idea to fruition.
For over 20 years, Natalie's has provided Baldor with the highest quality juices available. Natalie's upholds a philosophy of excellence in both its products and customer service. With the knowledge and expertise that comes from 4th generation citrus growers, Natalie's is committed to producing exceptional quality juice using-only the best fruit available year-round.

Today, Natalie's remains driven by the same family values from which the company originated. With a commitment to uncompromising quality & honest transparency, Natalie's goes to great lengths for authentic freshness. From handpicking the best fruits to making conscious efforts to support local growers, they make every effort to bring forth great juices, honestly. Over the years, Natalie's has built an undisputed reputation as the nation's best juice producer and has won over 10 National Taste Test in publications such as Good Housekeeping, Real Simple, bon appetit, Woman's Day, The Today Show, among others.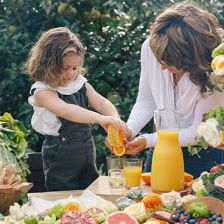 At Natalie's, the strive for excellence is never ending. We know you trust us to produce transparent, authentic juice which is why Natalie's has won 8 national taste tests for incredible freshness and wholesome nutrition. YOU are the reason for our purpose, our passion and we love you for it.

Marygrace Sexton, CEO/Owner
In Season Now
From Natalie's Orchid Island
EXPLORE THE WORLD OF BALDOR