Open Water, Chicago, IL
MORE OCEAN. LESS PLASTIC.
About Open Water
If Open Water was a "normal" water brand, we'd probably use this space to talk about bazillion-year volcanic filtration, cloud vapor, or untouched springs atop pristine European snow-capped mountains.

Instead, here's what we think is important for you to know: Open Water offers the best testing water in the most sustainable way. Each 100% recyclable, 100% carbon neutral can of Open Water is deliciously fresh and keeps harmful plastic out of our oceans. In fact, with our partners, we've already removed over 1 million pounds of plastic from use and are on a mission to eliminate the need for 1 billion plastic bottles over the next 5 years.

Our lineup includes both still and sparkling waters, ultra-purified and balanced with electrolytes and minerals for a crisp, clean taste.

Certified Women Owned. LGBT Founded and Led.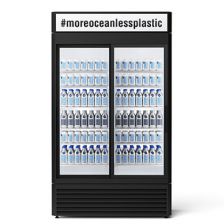 "We are so proud to serve and promote Open Water! It has given us such a visible, tangible touchpoint to champion our [sustainability] mission with guests."

Audubon Nature Institute
In Season Now
From Open Water
EXPLORE THE WORLD OF BALDOR