Joyce Farms Heritage Gloucestershire Old Spot pigs are raised on small family farms with no hormones or antibiotics. They feed on an all vegetable diet with no animal by products, are free range, pasture-raised, and traceable to the farms. Also called Boston Butt, this cut is a favorite for BBQ smokehouses and large, slow-cooked roasts.
Product Details:

Size: 2 X LB
Country of Origin:

United States of America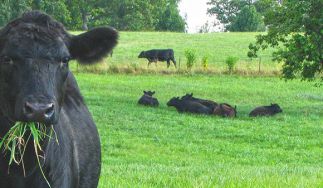 Family-owned, North Carolina-based Joyce Farms was founded in 1962 by Alvin Joyce, and is run today by his son, Ron, and his grandchildren, Ryan and Stuart, at the helm. When Ron took over in 1981, he found that industrial agriculture and modern farming methods were not producing the best flavored...
Learn more about Joyce Farms