Taproot Farm, Shoemakersville, PA
Passion for Food. Passion for Sustainability.
About Taproot Farm
Husband and wife, George Brittenburg and Ola Creston, founded Taproot Farm in 2009 in Berks County, Pennsylvania. Farming was a natural fit for George and Ola, who have spent their entire adult lives fighting for social and environmental justice issues. So when George graduated college, he started working at an organic farm and never turned back. In 2014 the family purchased the pristine farmland they had been renting for many years and in 2016 expanded their land to include a new organic blueberry farm just a mile down the road. The dedicated farmers who work alongside George and Ola in the field, become part of their extended family and return year after year. George and Ola believe deeply in the power of organic natural farming practices and building a community of people who respect the land, the farmers who work the fields, and the customers who invest in the health of their families and the planet.
TAPROOT PROMISES TO…
- Harvest and sell produce at the peak of its health and quality, ensuring the highest nutritive content, the best visible, taste and handling qualities.
- Never use synthetic sprays (pesticides, herbicides or fungicides) and only use pest control products approved by Organic Materials Review Institute (OMRI)
- Source untreated vegetable seeds and organic seeds whenever possible.
- Use fertilizers from natural renewable sources, which are approved by Organic Materials Review Institute (OMRI).
- Encourage a healthy ecosystem on their farm, which includes leaving fields fallow for nature to flourish.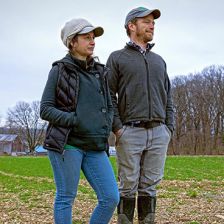 "We believe deeply in the power of organic natural farming practices and building a community of people who respect the land, the farmers who work the fields, and the customers who invest in the health of their families and the planet. It's not just about us... it's about all of us."

The Taproot Team
In Season Now
From Taproot Farm
EXPLORE THE WORLD OF BALDOR