Les vergers Boiron, Châteauneuf-sur-Isère, France
Together, let's share fruit at its best!
About Les vergers Boiron
Since the beginning of Les vergers Boiron, there was a passion for fruit.
The Boiron family, originally from the Ardèche region of France, started a fruit trading company in 1942. A few years later, business took off and the Boiron Frères company rapidly developed. It followed the move from Les Halles in Paris to the Rungis market in 1969. Pierre Boiron, the founder's son, then launched a major innovation. Dessert and pastry chefs were looking for practical and consistent use of products all-year-round. The CEO of Les vergers Boiron then created a fruit processing activity - heat-treated specifically to each fruit, then deep-frozen - which is the best technique still today to keep the flavor, texture, and freshness of the fruit intact. Professionals enthusiastically welcomed these ready-to-use fruit purees.
In 2005, Alain Boiron, Pierre's son, took over at Les vergers Boiron and in 2010, all the activities moved to an ultra-modern site in Valence, Drôme. Today, there are over 50 flavors of frozen fruit purées available all of which are 100% all-natural, GMO-free, and have no preservatives, additives, or thickening agents. The Les vergers Boiron experts select only the finest varieties of fruit from the best regions worldwide. Then these fruits, harvested at maturity, undergo a unique blending technique which guarantees product consistency from season to season, year to year.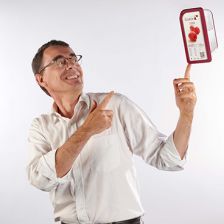 "As the inventors of frozen fruit puree, we have continued to innovate by developing our range to support artisans of taste from all over the world daily with excellent fruit solutions."

Alain Boiron, Owner
In Season Now
From Les vergers Boiron
EXPLORE THE WORLD OF BALDOR