Wonder Meats, Carlstadt, NJ
The Hamburger With the Delicious Beef Steak Flavor
About Wonder Meats
What was a family-owned butcher shop and store front over 40 years ago, has grown into a 24,000 sq.ft., SQF Level 2 rated and USDA certified manufacturing plant in Carlstadt, New Jersey with clients all over the country today. Their cryovaced products have a 21 day shelf life from the date it was packaged, which is conveniently printed right on their packaging.
Wonder Meats maintains a core set of values that guide our business practices today just as it did the very first time they opened their doors. Quality. Flavor. Safety. Consistency. Fair pricing. And never become so modern that you lose touch with your old fashioned ways.
They believe it has made all the difference in the world. But of course, they'd rather prove it to you. Order today - you'll see and taste the difference immediately.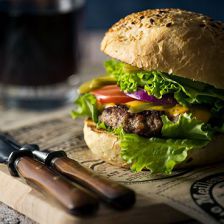 With our commitment to excellence and our client's success, we have become the preferred partner for hundreds of establishments, large and small all around the tri-state area. Could we be right for you?

Wonder Meats Team
In Season Now
From Wonder Meats
EXPLORE THE WORLD OF BALDOR