Joe Jurgielewicz and Son, Ltd., Hamburg, PA
The Modern Pekin Duck
About Joe Jurgielewicz and Son, Ltd.
Dr. Joe Jurgielewicz and Sons have been in the duck breeding industry since 1984. Dr. Joe is a veterinarian trained at Cornell University and the only vet-doctor in this country who is also a duck farmer. Although the Jurgielewicz name goes way back in the Long Island Pekin duck farming tradition, it is now operating out-of-state. Dr. Joe decided to open his first farm on 500 acres of rolling Pennsylvania farmland together with his two sons once Long Island became overcrowded with duck farms and pollution problems followed.
Dr. Joe raises a Pekin duck strain that is greatly sought after by Asian chefs. His farm is one of the only vertically integrated duck farms in the U.S. These ducks are fatter than most, are raised in modern, clean barns with mesh floors that have lots of fresh air flowing throughout. To eliminate any chance of polluting the environment, Dr. Joe collects solid duck waste and turns into a dry sanitary fertilizer that he gives away free to local farmers in his area. All his ducks are free roaming, antibiotic and hormone free, and raised on well water, soybeans and home-grown corn.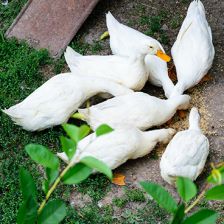 Guaranteed to be the tastiest duck you will ever eat.

Joe Jurgielewicz, CEO
In Season Now
From Joe Jurgielewicz and Son, Ltd.
EXPLORE THE WORLD OF BALDOR