Artequeso, Toledo, Spain
Queso Manchego Artesano
About Artequeso
Artequeso's cheeses are produced on the family estate farm from our own sheep. La Prudenciana, located in Tembleque (Toledo), in the heart of La Mancha region, is just 100 km. south of Madrid. The cheese factory can be visited to learn about the production process at any time.
They are already the fourth generation of the Alvarez Valera family devoted to a family business that started in farming and later was completed by breeding Manchego Sheep. In the early eighties they started transforming their sheep`s milk into artisan Manchego Cheese with D.O. (denomination of origin). Since then, they began to market our chesses under the ARTEQUESO brand name.
Their experience in the production of this cheese, together with the great success of Artequeso among their customers, encouraged them to increase our range of aged cheeses made with raw sheep, goat or blend of these two, and cow`s milk, under the BUENALBA brand name. All of them produced with careful attention to quality raw materials, slow ageing process and with total respect for the artisan tradition.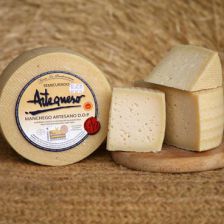 "Artequeso' has won various awards over the years, among them a Gold Medal for 'Best Artisanal Cured Manchego Cheese' at the 2013 World Cheese awards and 'Best Artisanal Semi-Cured Manchego Cheese', awarded by the Castilla La Mancha Department of Agriculture. Mario Batali, Gwyneth Paltrow and Mark Bittman loved our cheese when they came to visit several years ago!"

Artequeso Team
In Season Now
From Artequeso
EXPLORE THE WORLD OF BALDOR