The Applewood Bacon is made exclusively from our Compart Durac Fresh Pork Belly making the most flavorful melt in your mouth Bacon you can buy. Slice count of 10-12 is going to be about 1/4 thick. Due to its thickness is a great item for Candied Bacon, Burger topper, Meaty BLT, and or that old school extra thick bacon and eggs. The term 10-12 bacon slice count means it will average 11 slices per lb. so you can figure your cost per slice for food cost purposes. It is packed layout meaning it is sliced and layered out on a sheet of parchment paper for easy panning if you are cooking in volume. The average case weight is 15 pounds.
Product Details:

Size: 15 LB
Country of Origin:

United States of America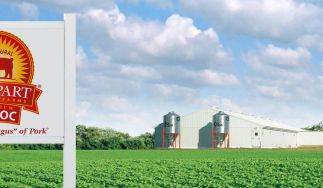 Premium quality Compart Duroc® Pork is the result of a carefully managed pork breeding program. Compart Duroc® hogs are bred, born and raised on small farms where family members are involved in the day-to-day management of their stock. The breeding program is the result of over 65...
Learn more about Compart Family Farms