Compart Family Farms, Nicolett, MN
Premium Pork With A Difference You Can See And Taste
About Compart Family Farms
Premium quality Compart Duroc® Pork is the result of a carefully managed pork breeding program. Compart Duroc® hogs are bred, born and raised on small farms where family members are involved in the day-to-day management of their stock. The breeding program is the result of over 65 years of combining the very best purebred lines of the Duroc breed. Compart Family Farms have also conducted extensive research and development to create a proprietary Compart Duroc® feeding program. This feeding program optimizes both the pig's performance and its meat quality. This, coupled with raising the pigs in comfortable, environmentally stable facilities, reduces stresses that adversely affect muscle quality.
Traditional pork is pumped or marinated with sodium and water for added juiciness.

That's just not natural.

Like well-marbled ribeye steaks, pork needs marbling, not water and sodium solutions. Through Compart's carefully selective breeding program, they have actually doubled the amount of marbling in their Duroc pork, making it naturally juicy and delicious.

They scan every purebred Duroc male and female for loin eye area, backfat thickness and marbling. With all of its flavor, their pork is 96 percent lean, with no water or sodium added.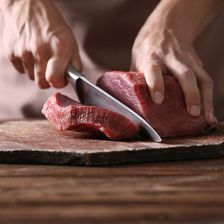 Compart Duroc® Pork promises rich, mouth watering flavor, and superior tenderness and juiciness in its all natural state. Marbling Matters!

Jim Compart
In Season Now
From Compart Family Farms
EXPLORE THE WORLD OF BALDOR