The Salzarulo family is behind the Lioni name and began its latticini tradition in over 100 years ago in the town of Lioni, Italy which is in Campania. The family moved the business to Brooklyn in 1980, building its reputation upon its fresh, whole milk mozzarella. Their products contain no additives or preservatives and are made from the freshest whole cows milk. While still holding onto Italian traditions and values, they are now a modern, HACCP-compliant company utilizing modern technology and computer-monitored equipment imported from Italy. These small egg-shaped mozzarella balls are silky to the touch, very moist, even juicy - the lactic flavor of fresh milk shines through.
Product Details:

Size: 3 LB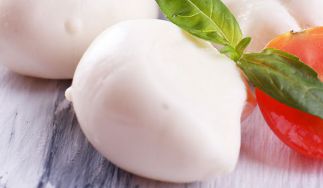 The Salzarulo family began its latticini tradition over 100 years ago in the town of Lioni, Italy. The family moved to Brooklyn in 1980 and, within only three decades, transformed their small neighborhood business into a nationally recognized manufacturer of fresh mozzarella. Today, the...
Learn more about Lioni Latticini, Inc.