More About This Product
The Compart Family Farms of Minnesota are processors of a pure bred line of the Duroc breed. The Compart people have conducted extensive research and development to create a proprietary feeding program that optimizes the pigs performance and its meat quality. This, coupled with raising the pigs in a comfortable, environmentally stable facility, reduces stresses that adversely affect muscle quality. The end product is the highest quality pork imaginable with a bright reddish pink color, a higher pH, and a higher percentage of marbling. You also end up with an ultra-tender and juicier pork experience naturally.
Product Details:

Size: 10 X LB
Country of Origin:

United States of America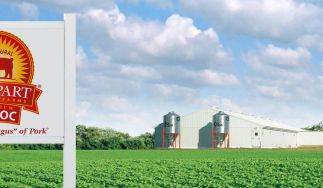 Premium quality Compart Duroc® Pork is the result of a carefully managed pork breeding program. Compart Duroc® hogs are bred, born and raised on small farms where family members are involved in the day-to-day management of their stock. The breeding program is the result of over 65...
Learn more about Compart Family Farms