A mix of local herbs, chives and garlic, the delicate tanginess and crumbly texture of Herbal Jack makes it similar to an English Cotswold. In addition to being a grass-fed and hormone-free raw cow's milk cheese, it contains healthy doses of garlic which is one of the healthiest foods on the planet.

Product Details:

Size: LB
Country of Origin:

United States of America local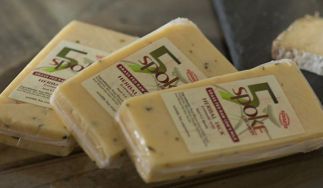 The cheesemakers at 5 Spoke have a philosophy of balance; their cow's milk cheese offers the flavor of fine cheese and the health benefits of raw milk. Production takes place on-site in a restored barn and farmhouse in Goshen, NY, only 57 miles out of NYC. Because of seasonal...
Learn more about 5 Spoke Creamery