More About This Product
Recalling flavors of a Caerphilly and young Cantal, this Welsh Cheddar is a smooth, moist, ultra-creamy, washed-curd cheese that is delectably sweet and nuanced.
Product Details:

Size: LB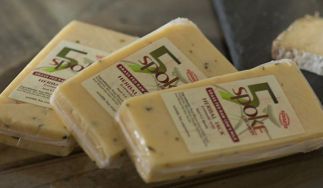 The cheesemakers at 5 Spoke have a philosophy of balance; their cow's milk cheese offers the flavor of fine cheese and the health benefits of raw milk. Production takes place on-site in a restored barn and farmhouse in Goshen, NY, only 57 miles out of NYC. Because of seasonal...
Learn more about 5 Spoke Creamery