More About This Product
Grown and trademarked by First Fruits of Washington, this gorgeous specimen is a Golden Delicious/Topaz cross and is the best eating apple around when in peak season (November thru April). Bright yellow and super-crisp, with natural russeting around the stem, it boasts a rich, pineapple-lemony flavor sparked with bright acidity. Their texture is very crunchy, delivering the satisfying snap of a firm, hard apple. Additionally, Opals resist oxidation when cut which makes them perfect for snacking and cutting up into fruit salads.
Product Details:

Size: 50-60 CT
Country of Origin:

United States of America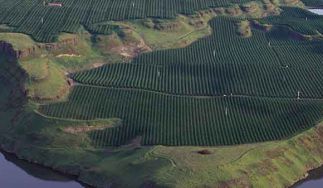 FirstFruits Marketing is a collaborative apple marketing company owned by growers, Broetje and Congdon Orchards. These growers share a commitment to producing high quality fruit while balancing the demands of purpose, people, planet and profit so that a portion of profits can be donated to...
Learn more about First Fruits