Tache, NY
Better Tasting. Better for the Planet. Better for You.
About Tache
As the first pistachio milk in the U.S., Táche is a community-first brand creating a new category in alternative milk. Táche is rooted in three pillars: better tasting, better for the planet, and better for you.

As a first-generation Iranian-American, pistachios were always a mainstay in Roxana Saidi's home. They were her favorite nut not only for their cultural significance but also for their numerous health benefits. In 2015, Roxana started making pistachio milk as an alternative to almond milk, which was depleting her native CA of water during its worst drought on record.

After learning pistachios require significantly less water than almonds, Roxana set out to create a more sustainable, delicious alt-milk without any of the unhealthy added oils of oat milk.

Táche launched in November 2020 via DTC and Foodservice channels. With nationwide distribution, Táche is rapidly expanding across third-wave coffee shops and cafes (Verve, Devoción, Ralph's Coffee, Blank Street, Maman, and Sant Ambroeus to name a few), as well as in specialty and natural grocers.

Táche is a values-driven company. As part of our ethos as a female-led and founded brand, we proudly donate a portion of our profits, product, and our time to programming to the Lower Eastside Girls Club of New York to nurture the growth of underprivileged girls in our community.

Táche is based in Brooklyn and has been featured in Forbes, Vogue, Bon Appétit, Refinery29, Well & Good, and New York Magazine.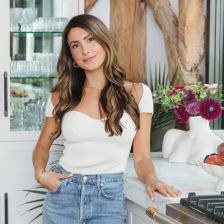 "Táche is for a new kind of alt-milk drinker. The one who makes taste the center of attention and nutrition its best friend. Sharp tongues with soft taste buds. We think of Táche as a step ahead but always within reach, aiming to take center stage in your fridge."

Roxana Saidi, Founder & CEO
EXPLORE THE WORLD OF BALDOR