Salcis, Siena, Tuscany
Bring a Tuscan's slice with you!
About Salcis
During Second World War, because of the restrictions, Sienese deli workers decided to get together to work pork's meat. S.A.L.C.I.S. born as acronym of Società Anonima Lavorazione Carni Insaccati Siena.
In 1960 begins also the sheep's milk processing, the milk is collected through the shepherds of the surrounding areas of Chianti, the Sienese Crete and the Orcia Valley.
From the twenty original members of the 80's, Morbidi Family become the sole owner of the company, which is a piece of the history about goodness of Tuscan cured meat and cheeses.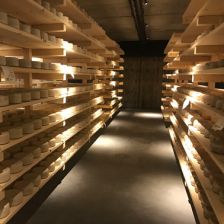 "I want to let others eat what I would like to eat."

Armando Morbidi (company founder)
In Season Now
From Salcis
EXPLORE THE WORLD OF BALDOR