RI Mushroom Co., Kingston, RI
Growers of Exotic Mushrooms
About RI Mushroom Co.
Started in January of 2013, the RI Mushroom Co., LLC is a growing and dynamic company that cultivates exotic mushrooms. Located in West Kingston, RI, they have created the ideal growing environment for mushroom propagation. By maintaining a humidity level of over 95% and a constant, cool temperature, their crops steadily grow into exemplary mushrooms — each with their own texture and flavor profile.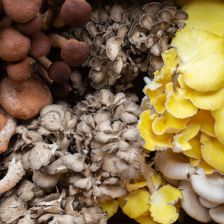 "We're trying to be the mushroom guys for Rhode Island."

Mike Hallock & Bob DiPietro
In Season Now
From RI Mushroom Co.
EXPLORE THE WORLD OF BALDOR