Ocean Mist Farms, Castroville, CA
Castroville Grown
About Ocean Mist Farms
Ocean Mist Farms is one of Baldor's oldest and most trusted purveyors. This family farm has been supplying Baldor with top quality artichokes, lettuces, Brussels sprouts and other fresh vegetable for over 25 years. Ocean Mist Farms is owned by four grower families, headquartered in Castroville, California and has been growing quality fresh produce since 1924. The small town of Castroville in central California, with its warm, mildly misty climate, is responsible for 75% of the state's artichoke production and California grows 99% of the country's supply. Castroville, CA is known as the Artichoke Center of the World and the Artichoke has been named the Official State Vegetable of California!
Ocean Mist grows more than 30 premium fresh vegetables year-round in multiple growing regions throughout California, Yuma, Arizona and Mexico. Since 2000, Ocean Mist Farms has been a leader in the organics produce category when they started cultivating premium organic artichokes. Today this burgeoning category includes beets, broccoli, cauliflower, kale, fennel, lettuces, parsley and spinach sold under the Ocean Mist Organic label.
Although Ocean Mist Farms is a large growing operation, they continue to express their small-farm values through their environmentally conscious farming methods. Ocean Mist Farms has advanced techniques in place for water conservation, reducing carbon footprint, keeping healthy flora in the soil, and integrated pest management. They are also renowned for offering their employees excellent working conditions and benefits. Ocean Mist Farms is very active in California and community based food charities managing both food waste and providing fresh nutrition produce to those in need. In fact, The California Association of Food Banks recently honored Ocean Mist Farms for donating more than 1 million pounds of fresh produce. Finally, Ocean Mist Farms invites you to visit the annual Castroville Artichoke Food & Wine Festival held annually in Monterey County, a community event that benefits local charities and delights the taste buds of artichoke lovers young and old!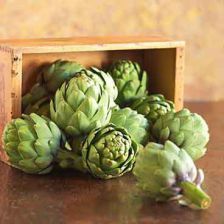 I'm a backyard gardener on a large scale.

Chris Drew, Ocean Mist Farms
In Season Now
From Ocean Mist Farms
EXPLORE THE WORLD OF BALDOR