Niman Ranch, USA
Raised with Care®
About Niman Ranch

Niman Ranch is a community of more than 750 independent family farmers and ranchers who raise pork, beef, and lamb traditionally, humanely, and sustainably to deliver the Finest-Tasting Meat in the World®. Niman Ranch is the largest farmer and rancher network in North America to be Certified Humane®. The protein of choice for America's most celebrated chefs, Niman Ranch is also the premier option for discerning home cooks looking for meats Raised with Care®, with no antibiotics or added hormones—ever.
Niman Ranch started in the early 1970s on a family-owned cattle ranch in Bolinas, CA, a small coastal town just north of San Francisco. Back then, our cattle were Raised with Care® using traditional, humane methods with wholesome, all-natural feeds – the same way we raise them today. The buzz about our great tasting beef spread quickly and, before long, our burgers and steaks became favorites in local grocery stores and popular San Francisco Bay area restaurants.
In 1995, we expanded to raising hogs when we met farmer Paul Willis of Thornton, Iowa. At the time, Paul was busy revitalizing sustainable hog farming methods in the Midwest, moving away from the common industrial practices. His dedication to animal welfare and stewardship of the land closely matched our stringent principles. A partnership was quickly formed, allowing us to proudly offer a variety of proteins.
Today, our network includes more than 740 family farmers and ranchers throughout the country. Whether they're raising hogs, cattle, or lamb, they all share our commitment to raising livestock under strict protocols and the belief that humane and sustainable methods produce the best possible flavor.
Our many years in the industry have provided us with the expertise to produce great tasting meat, authentically and consciously, by caring for our animals, the land, and our farmers.
Our mission is earnest: We raise livestock traditionally, humanely, and sustainably to produce the finest tasting meat in the world.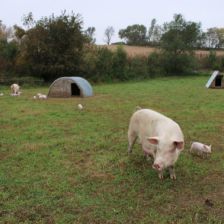 "With Niman Ranch, we can remain a small farm but be part of a big movement."

Mark Sperfslage, Niman Ranch Hog Farmer
In Season Now
From Niman Ranch
EXPLORE THE WORLD OF BALDOR