Grafton Village Cheese, Grafton, VT
We are Cheese on a Mission Promoting Vermont's Rural Communities
About Grafton Village Cheese
Grafton Village Cheese Company – A Traditional New England – Style Cheddar
Cheesemaking traditions in the historic Village of Grafton, Vermont date from the 19th century. The Grafton Cooperative Cheese Company was founded in 1892 by dairy farmers who formed a cooperative to make their surplus raw milk into cheese. Today, quality and taste are the hallmarks of our company's award-winning cheeses. Our traditions have stayed over the years; we make our cheese by hand using premium milk from small, local family farms.
We choose high butterfat, high protein milk that produces a creamy cheddar texture throughout the aging process.
We produce small-batch cheese made by hand using traditional methods and unpasteurized milk for our characteristic flavor profile. An individualized grading process delivers cheese at its optimum age.
Our products include aged cheddars matured as long as 4 years and distinctive flavored cheddars.
Joining Grafton in 2018, is Head Cheesemaker Mariano Gonzalez - an award-winning cheesemaker and cheddar cheese specialist who has been developing his skills for over 30 years.
We are Cheese on a Mission…Promoting Vermont's Rural Communities Grafton Village Cheese is a mission driven business of the nonprofit Windham Foundation of Grafton, Vermont.
Our mission is to support Vermont's rural communities. The Windham Foundation works to preserve and enhance the social, economic, and cultural vitality of Vermont's smaller communities and their rural way of life, especially within and around the town of Grafton, Vermont. The Foundation focuses on Vermont's history, natural resources, and agrarian traditions.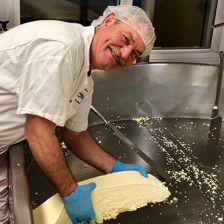 "Today, quality and taste are the hallmarks of our company's award-winning cheeses. Our traditions have stayed over the years: we make our cheese by hand with milk from small family farms."

The Grafton Team
In Season Now
From Grafton Village Cheese
EXPLORE THE WORLD OF BALDOR