DI MARTINO, New York, NY
Since 1912 Pastificio Di Martino brings PGI Gragnano Pasta made with 100% Italian durum wheat worldwide.
About DI MARTINO
More than 100 years of experience in the production of Gragnano Pasta make the di Martino family the reference point in the world market of Protected Geographical Indication (P.G.I.) high quality pasta.
Di Martino pasta is made by the successful encounter of selected 100% Italian durum wheat semolina with the purest local spring water. The bronze die extrusion and the slow drying process at low temperatures help making it fall under PGI Gragnano Pasta. The result is a rough and tasty product, able to perfectly hold sauces and return the intense aroma of wheat.
Consumer's wide choice ranges from whole wheat, to organic, to regional and original products, up to the vintage hand-wrapped line, for a total amount of over 120 pasta shapes. Nowadays the Di Martino Company produces 8 million portions of pasta every day and exports its Italian quality and tradition over more than 36 Countries.
Being engaged in the production of good, clean and fair pasta, Di Martino has deservedly been selected as Slow Food Official Supporter. The brand is available worldwide and already counts 3 company stores, in addition to several interesting projects being developed for the very next future such as the next opening at Chelsea Market, New York.
For Pastificio Di Martino, 2017 is the year in which the collaboration with Dolce&Gabbana is set up; the well-known high fashion brand signs the pack of the historical pasta factory. Pastificio Di Martino and Dolce & Gabbana made a Special Edition celebrating the Italian excellence through the colours, symbols and monuments identifying the Country. The new packs have become real postcards from Italy, that are going to enliven and scent tables worldwide thanks to their lively Mediterranean design.
Why Di Martino pasta?
• PGI Gragnano Pasta
• Made with the best 100% Italian durum wheat
• Bronze die
• Slowly dried at low temperature
• Minimum 14% protein
• Rough surface to perfectly hold sauces
• Chance to choose among over 100 delicious pasta shapes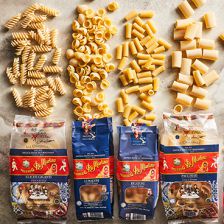 "Every "where" has its own "because""

Di Martino Family
In Season Now
From DI MARTINO
EXPLORE THE WORLD OF BALDOR