d'arbo, Tyrol, Austria
Natural Fruit Preserves, Compotes and Marmalades
About d'arbo
D'arbo has a history that spans more than 100 years of experience and expertise in processing the very best quality fruit and honey products. Today, the company has grown to become the market leader in fine fruit preserves and bakery products in Austria and has gained a strong presence worldwide, exporting to more than 60 countries. D'arbo All Natural Preserves stand above the rest in both quality and presentation. Only the best fruits are selected from the world's most famous growing regions, combined only with sugar instead of corn syrup or HFCS, as well as lemon juice concentrate instead of citric acid. Careful heating and delicate methods are used to preserve the fruit's natural aroma.
In 1879, Adolf D'arbo had just opened his "fruit steam works" in Görz, Austria, setting the foundation for the company that today is one of the most successful food companies in the country. As a family-owned business, D'arbo focused on providing the highest quality fruit products to the catering and food service industry, and through the years expanded to the retail market.
Their success is a result of selecting only the best fruit from different regions of Europe (for example, Black Cherries from Switzerland, Rose Apricots from Eastern Europe and Lingonberries from Scandanavia) and employing careful methods of preparation.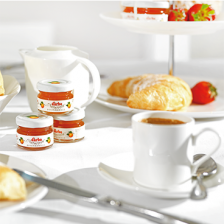 The cornerstones of our success are firstly our quality advantage that we continue to extend, and secondly the strong D'arbo brand.

Martin D'arbo, Owner
In Season Now
From d'arbo
EXPLORE THE WORLD OF BALDOR