Christopher Ranch LLC, Gilroy, CA
All Garlic is not created equal!
About Christopher Ranch LLC
Christopher Ranch LLC is a third-generation, family-owned grower/packer/shipper, and the largest producer of domestic garlic for the fresh market in the United States. We are based in Gilroy, California, fondly named "the garlic capital of the world". We are vertically-integrated, allowing us to directly market our products, and ship from our farm directly to our customers' locations.

Our Monviso California Heirloom garlic has been heralded for its flavor for decades, and its name and history harken back to the Piemonte region of Italy, from which this seed-variety originated. Since 1956, when Christopher Ranch originated, we have been cultivating this flavorful garlic, and providing fresh, whole peeled, roasted, and other packaged options for our garlic, along with Organic options, and other Specialty Products such as Elephant Garlic, Shallots, Ginger, Sun Dried Tomatoes, and other complimentary items.

We have committed ourselves to providing our customers with the year-round availability and customer service that make our flavorful garlic products not only dependable, but requested by name. We are Kosher Certified, Food Safety-certified, and nationally distributed through our own facilities, enabling us to provide freshly-made and locally-available products every week to our customers under the same high standards nationally. "All garlic is not created equal", and we make it our job every day to teach our customers, our CUSTOMERS' customers, and the world about the flavor and quality of our Christopher Ranch Monviso Heirloom garlic from California!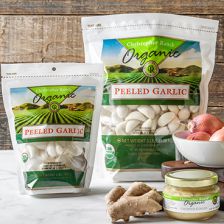 "Every Chef knows that your food is only as good as the products you start with, that is why we only use Christopher Ranch heirloom garlic in all our recipes.

You can't beat the consistency in quality, size and flavor that you get from Christopher Ranch products.

Everything else is just second best."

Executive Chef Don Shoenburg, Long Bay Beach Resort, British VI
In Season Now
From Christopher Ranch LLC
EXPLORE THE WORLD OF BALDOR