Caviar Star, Ocean Isle Beach, NC
Procuring the world's finest caviar and specialties since 1991
About Caviar Star
Great Atlantic Trading Inc. is a leading US importer and supplier of fine caviar, roe, and rare European delicacies, specializing in sustainable sourcing from farms and fishermen, extensive re-grading, and private-label caviar for many brands and restaurants. As a frontrunner in transparency and education, Great Atlantic founded a world-wide alliance of caviar importers and scientists with the intent of ensuring the caviar industry is collectively making an effort to sustain native wild sturgeon populations and enjoy delicious caviar for years to come.
Great Atlantic was established in Portland, Maine in 1991 by husband and wife diving duo, Dana and Denise Leavitt. Originally specializing in Uni and American wild caviar, they were trained by their Japanese counterparts, with strict quality control and care applied to every aspect of caviar procurement, from start to finish. Today, Great Atlantic is operated in North Carolina by the Leavitts and their two children, and remains a small, honest family business operating one of the largest volume caviar facilities in the country. Many years in the industry have provided them with the expertise to produce great caviar, authentically and consciously, by caring for farmers, fishermen, and the integrity of individual species through transparency and education.
Caviar Star is their chef-curated brand of caviar, meeting the standards of Michelin Star chefs and the most demanding connoisseurs by offering the widest variety of only the best species and origins. Their caviar is directly sourced and discriminately selected from each harvest, expertly graded, and hand-packed to order from large format original caviar tins.
In addition to fine caviar, Caviar Star has curated a selection of caviar gifts, offering a variety of mother of pearl caviar serving pieces and elegant caviar servers worthy of any occasion. They also feature a focused selection of European artisanal produced gourmet foods, including truffle products, pure nut & seed oils, aged vinegars, escargots, vanilla beans, bottarga and more.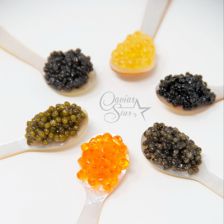 Life is too short for mediocre caviar.

Deanna Leavitt
EXPLORE THE WORLD OF BALDOR