Catskill Provisions, Long Eddy, NY
100% Raw Honey & Pure Maple Syrup
About Catskill Provisions
Born in Madrid and raised in New York City, Claire Marin, proprietor of Catskill Provisions had already attained success in the corporate world as Publisher at several national Magazines. After moving to the small, rural town of Long Eddy in the Catskill Mountains, she found herself drawn to the bees and how they work in easy harmony with each other and their surroundings. Inspired by their example, she began building her own business drawing upon the local natural resources of Upstate New York.
Today, Claire tends to over 300 beehives in Delaware, Sullivan, and Madison Counties in New York State, in cooperation with other local beekeepers to create small batch, hand-packed honey harvested twice a year. Her wildflower honeys represent the flavors of the seasons in which they are produced: clover, apple, cherry, basswood, almond, hazelnut and pear blossom in the spring and chestnut, maple, goldenrod, buckwheat, bamboo, and asters in the late summer.
The Catskill Provisions community has grown to include locavore restaurants, hotels, and specialty stores whose shared goals include a commitment to sustainable, raw, organic, local food products.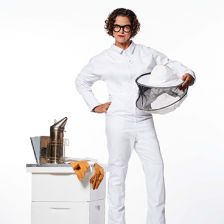 "Each product is carefully sourced to include only the finest, locally harvested ingredients to create uniquely distinguishable flavors that delight the palate."

Catskill Provisions Team
In Season Now
From Catskill Provisions
EXPLORE THE WORLD OF BALDOR