Carbone, New York, NY
Cook like a chef. Dine like a guest.
About Carbone
Carbone's new line of pasta sauces bring the exceptional Carbone restaurant dining
experience directly into consumers' homes. Created and developed by award-winning
master chefs Mario Carbone and Rich Torrisi, the sauces are available in four varieties:
Marinara, Arrabbiata, Roasted Garlic and Tomato Basil.
Using a traditional home-made process, the sauces are made in small batches crafted with
fresh ingredients like Italian-grown tomatoes handpicked at peak ripeness, whole onion and
garlic to deliver restaurant-quality taste with every bite. The Carbone team oversaw the
entire process from start to finish, testing hundreds of batches to ensure that the quality of
the jarred sauce is comparable with what is served out of the restaurant's kitchen.
All Carbone sauces are made using 100% Italian tomatoes and are gluten-free, low-carb, non-GMO, kosher, vegan and have no added sugar. All varieties are sold in 24 oz jars.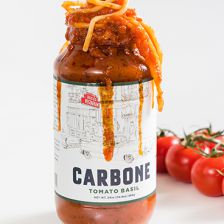 "Recreating some of our staple sauces for people to enjoy at home has been a goal for some time and became increasingly more important in the last year. We set out to provide people the best-tasting jarred sauces to cut down cooking time, and that's exactly what we've done. We couldn't be more excited to bring the taste of Carbone home."


Award-winning chef, Mario Carbone
In Season Now
From Carbone
EXPLORE THE WORLD OF BALDOR