Backyard Farms, Madison, ME
Where gardeners care for the same vines from planting to harvest - a happy plant makes a happy tomato.
About Backyard Farms
Back in 2004, a couple tomato aficionados noticed that every tomato in the grocery store was grown in Canada, Mexico or Holland – meaning that they weren't vine-ripened. As lovers of great tomatoes (like the kind you get from your own backyard in summer), they opened Backyard Farms to deliver great tomatoes to the Northeast all year long. They treat their entire 42-acre greenhouse not as a single indoor farm, but rather as a collection of smaller gardens tended to by dedicated growers they refer to as Personal Gardeners. Each gardener looks after 10 rows of plants and gives them the love and attention they deserve all throughout their growing cycle. Today Backyard Farms is the largest grower of year-round tomatoes in New England. Every tomato is fully vine-ripened, hand-picked and hand-packed to assure a perfect specimen every time. The plants are grown hydroponically from seeds selected from hundreds of varieties and suppliers. Backyard Farms tomatoes are non-GMO certified but cannot be designated organic because they're grown in water, not soil.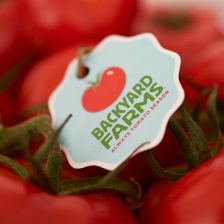 "We are tomato growers. It's what we do, it's what we love, and it's where and how we live."

Backyard Farms Team
In Season Now
From Backyard Farms
EXPLORE THE WORLD OF BALDOR