Arethusa Farm Dairy, Bantam, CT
Milk Like It Used to Taste
About Arethusa Farm Dairy
In 1996 two ex-executive at Manolo Blahnik footwear, Anthony Yugaitis and George Makelmus purchased a century old horse farm across the road from their home in Litchfield, CT, and decided to revive the original dairy that stood in that spot a century before. They started out selling milk from their herd of Jersey, Brown Swiss, and Holstein cows which later evolved into a cheese-making venture. They use only milk from their highly pampered, purebred cows. They pride themselves on providing the absolute highest level of care for their animals and like to say "Great milk comes from great cows, and great cows come from Arethusa".
Arethusa Blue is their take on classic British-style blue cheeses like Stilton. Extra cream is added to raise the butterfat content and the wheels are pierced once during their 3-4 month aging process.
The result is a bright, sweet, and a bit tangy cheese with a good salt balance. Notes of wet hay, chocolate, toasted butter, and vegetal notes are laced throughout. Arethusa is a unique and very easy-eating blue, wonderful on a dessert plate or with a stout or smoked porter.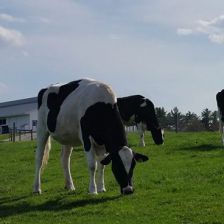 "We're making milk the way we used to — vat pasteurized — but doing it in a very sophisticated way."

Chris Casiello, Seasoned Dairy Producer
In Season Now
From Arethusa Farm Dairy
CUSTOM HARVEST PRODUCTS
EXPLORE THE WORLD OF BALDOR