Grown exclusively by B&W Gourmet Farms, red watercress leaves stain purplish around their tips when the weather is cold enough. This is a naturally occurring phenomena that yields crunchy, peppery, delicious watercress with the added bonus of burgundy blushing. Red watercress has the same high levels of vitamins and antioxidants as the green variety and is emboldened with plum tones that electrify any dish.
Product Details:

Size: 1.5 LB
Country of Origin:

United States of America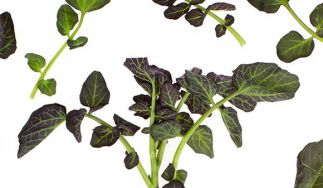 B & W is the world's largest producer of both green and red watercress. They refer to watercress as "the original antioxidant powerhouse" since only kale can match it for sheer nutrient density. This potassium-rich green is also loaded with iron that is easily absorbed by the...
Learn more about B&W