Always fresh, always crisp Patriot Pickles Half Sour Pickles are the least pickled pickles youll find. While they are cured in a salt brine flavored with fresh garlic and spices, they retain a clean cucumber flavor and fresh, crisp crunch. Also known as green pickles.
Product Details:

Size: 50 CT 5 G
Country of Origin:

United States of America local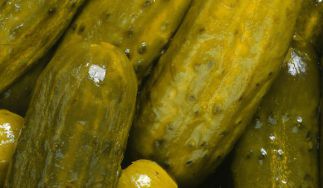 Twenty five years ago, brothers Bill and Bob McIntee owned seven hamburger/hot dog type restaurants in New Jersey. They found themselves continually frustrated by the fact that they could not get a decent pickle to serve on the side of the plate. They then began sourcing equipment and curing tanks...
Learn more about Patriot Pickle