Ronnybrook Butter is made from fresh, hormone-free N.Y. State cream and sea salt. It is fresh churned in small batches and rich and creamy with a butterfat content of about 85%. The high butterfat is attained by removing as much moisture as possible. It is preferred by chefs because it has a much higher flash point than regular butter and has a shelf life of about 3 months.
Product Details:

Size: 5 LB
Country of Origin:

United States of America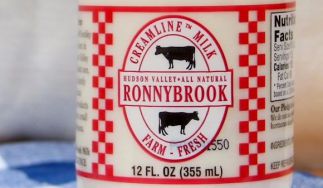 The Ronnybrook family has been in business for over 70 years and they manage every phase of milk production – from farm to the cows to the bottling plant – with no third parties involved. During the spring, summer, and fall, their cows feed primary on fresh pasture that grows on...
Learn more about Ronnybrook Dairy