a2 Milk® is different from many milks you may have tried. It comes from cows that naturally produce only pure A2 protein, which is easier on digestion and may help some avoid discomfort.a2 Milk® exclusively partners with dairy farmers who are Validus certified and follow a comprehensive dairy cattle audit and assessment program backed by the United States Department of Agriculture (USDA) and the International Organization for Standardization (ISO).Farmers participate in extensive onsite audits, ongoing reviews, training and re-certification to keep their animal care practices top-notch.
Product Details:

Size: 6 X 1/2 GAL
Country of Origin:

United States of America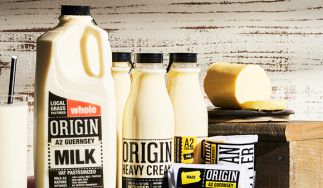 Origin Milk is milk in its original form – original taste, original nutrition and original genetics. Our mission is to bring back real dairy that is delicious and nutritious while preserving our environment and heritage cow breeds. All of our products are produced fresh from select local...
Learn more about Origin Milk