More About This Product
A cross between a Cantal Fermier and aged cheddar, this semi-hard cheese shows its true form after 12 months in the cave. It is delicately fruity with a unique curdy texture. The finish pulls in cheddar-like creaminess and brothy, brown-butter aromas.
Product Details:

Size: LB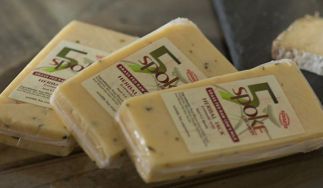 The cheesemakers at 5 Spoke have a philosophy of balance; their cow's milk cheese offers the flavor of fine cheese and the health benefits of raw milk. Production takes place on-site in a restored barn and farmhouse in Goshen, NY, only 57 miles out of NYC. Because of seasonal...
Learn more about 5 Spoke Creamery