More About This Product
Grown right here in Milton, N.Y. by the Albinder family, these beautiful Rome apples are superb cooking apples because they retain both their shape and tart flavor when cooked. Their texture is firm and they have greenish-white flesh. If you simmer them with a sweet Golden Delicious you'll have a perfectly balanced applesauce. Romes are also great roasted, sauteed in butter and or tossed in salads. Slices also freeze beautifully.
Product Details:

Size: 80-88 CT
Country of Origin:

United States of America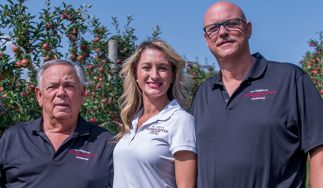 Hudson River Fruit Distributors in Milton, N.Y. is one of the largest apple growers in this region. It was established in July 12, 1963, by Isadore "Izzy" Albinder, along with his son Harold Albinder. Izzy first entered the apple business back in 1932, after immigrating from Russia. He saw an...
Learn more about Hudson River Fruit