Président Cheese, Buffalo, NY
Europe's Leading Cheese Expert
About Président Cheese
After decades of experience in French cheesemaking, Lactalis Group launched the Président® brand in 1968, which quickly set the standard for Camembert, Brie and Butter. These products continue to be the foundation of the brand, crafted with artisanal methods and state-of-the-art efficiencies. Using traditional European techniques, we now make several Président brand products, such as Brie, in Wisconsin.
The Président brand is widely recognized across the globe for Europe's legendary cheese varieties. What started with French Camembert, Brie and Butter has grown to include Europe's ripened royalty- Roquefort, Manchego, P'tit Basque, and Emmental - satisfying diverse tastes of people all over the world.
We have a passion for creating the finest cheeses in the world - and it shows. Président brand products continue to win accolades from industry experts at competitions across the globe. In fact, Président brand cheese has won more than 79 medals over the past 9 years.
Président brand is the #1 Brie in both the United States and France. So don't just ask for Brie; ask for Président Brie.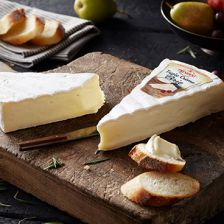 "I've been inspired by Président's European expertise and heritage, and teamed up with them to create delicious recipes and adventurous cheeseboard pairings."

Chef Gavin Kaysen
In Season Now
From Président Cheese
EXPLORE THE WORLD OF BALDOR