Pons, Lleida, Spain
The Wisdom of Four Generations in Olive Oil & Spanish Products
About Pons
Grup Pons is a fourth generation family owned company specialized in the production and marketing of high quality Olive Oils and Mediterranean products. Their HQ and estate farms are located in Lleida (west of Barcelona) Catalonia region (Spain).
PONS products are the legacy of a family which expresses its Mediterranean Spirit through passion for the land and mastery, offering great quality products that have the flavor of trust and tradition. They've kept three things in mind since 1945 after four generations: Tradition, Quality and Innovation.
PONS has had worldwide recognition for its quality in more than 140 countries spread throughout the five continents. They have been supplying the retail market and the food service market in the US with top quality Mediterranean Food products since 1996.
They are organic and sustainable, the passion and respect for the soil give the excellence to PONS products, following all of the parameters of Ecological farming and always respecting the environment. The production process of PONS olive oils combines the traditional milling process of a stone mil with the latest technology in olive oil extraction.
All of their organic products are recognized with the USDA certification. The commitment for improving our manufacturing procedures, food & beverage safety and traceability is recognized with multiple certifications such us: ISO, BRC, IFS , KOSHER or HALAL, just to name a few of the most recognized.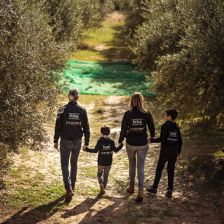 "From arbequina olives and from this land comes the best Olive oil in the world."

Eduard Pons, Grup Pons CEO
EXPLORE THE WORLD OF BALDOR