Point Reyes Farmstead, Point Reyes Station, CA
Superior quality farmstead dairy products.
About Point Reyes Farmstead
The Giacomini commitment to producing superior quality, farmstead dairy products began over 80 years ago in the mountains of Italy. Three generations later, Bob Giacomini and his four daughters, Karen, Diana, Lynn and Jill continue the family tradition on their farm in Marin County, California.
Point Reyes Farmstead Cheese Company was officially launched on August 1, 2000 with the first vat of Point Reyes Original Blueä. The secret to all the cheeses made on the farm lies in the unique combination of 3 key ingredients: Grade A milk from a closed herd of Holstein cows that graze on the pastures overlooking Tomales Bay, the coastal fog and the salty Pacific breezes. The all-natural, gluten-free, award-winning product line consists of Original Blue, Toma, Fresh Mozzarella and Bay Blue.
Point Reyes Farmstead Cheese Company is committed to sustainable farming practices, humane animal care and respectful land stewardship. Our mission is to make and deliver only the finest quality cheese possible.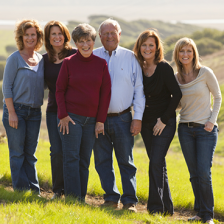 The cheese is really the reward for everything we're doing here on the farm; conserving the land, making sure the pastures are rotated, making sure the cows are really healthy...that's where we get the good quality milk. That's what our business was built on.

Diana Giacomini, Co-Owner
In Season Now
From Point Reyes Farmstead
EXPLORE THE WORLD OF BALDOR