Koppert Cress, Cutchogue, NY
Living Condiments
About Koppert Cress
Koppert Cress USA is a local Long Island grower and forager of flavor with its origins in Dutch innovative agriculture and greenhouse expertise. They produce living microgreens, cut microgreens and specialties for the top restaurant Industry. Their natural products and heirloom varieties are grown from seeds sourced around the globe. As Chef Marc Forgione has said of the farm's general manager, "Nicolas Mazard is like the Willy Wonka of microgreens. Nothing is out of reach for him and his imagination and his creations add complexity and texture that give a certain je ne sais quoi."
With over 100.000 square feet of new eco-conscious greenhouses on 50 acres, Koppert Cress is one of the fastest growing companies in the area. Using state of the art agricultural practices, they supply both the food service and retail sectors, filling plates with aromatic architecture and vibrancy. Their dedication to quality has gotten them accolades from chefs like Franklin Becker, who has said that the farm is "…getting back to the way greens are supposed to taste. By using heirloom varieties and biological crop protection, they deliver obscene flavor bursts to my plate every time. My guests go crazy for how good our greens taste. I literally add nothing but lemon, salt and olive oil to dress them."
Their greenhouses are located in Riverhead and Cutchogue on the beautiful North Fork of Long Island. Surrounded by wineries, they are in "the sunniest place in NY State" where agriculture thrives. They have access to the best beaches and can enjoy all water sports yet they are close to New York City.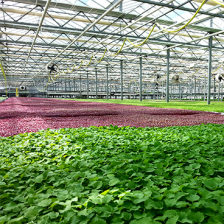 "Throughout the years, Koppert Cress has been a great contributor to our creations' inspirations. With their various and seasonal products, such as their tahoon cress, mitsuba and lemon sorrels, they bring the final touch to our dishes."

Chef Daniel Boulud
In Season Now
From Koppert Cress
CUSTOM HARVEST PRODUCTS
EXPLORE THE WORLD OF BALDOR