Hepworth Farms, Milton, NY
Family-Owned Organic Farm
About Hepworth Farms
Established in 1818, Hepworth Farms is a seventh generation family-owned farm. Hepworth Farms grows about 400 varieties of vegetables, including about 100 varieties of tomatoes.
Today the certified organic farm is run by twin sisters Amy and Gail Hepworth alongside partner Gerry Greco. Hepworth Farms practices a whole-alive-systems approach, paying attention not only to their crops, but also to the health of their soil and employees. Their workers' daily routine includes at least twenty minutes of stretching and forty push-ups. They believe this practice prevents injuries and relieves some of the aches acquired while farming. To reduce energy consumption, Hepworth's packing house was built underground with a cement roof, which helps keep it cool and reduces refrigeration needs. Solar panels on the farm provide some renewable energy too.
The Hepworths are passionate about helping farmers thrive in the Hudson Valley. They believe the Hudson Valley is rich farmland, with great soil and climate, and uniquely positioned near the strong NYC market. Amy encourages new farmers to embrace organic principles without necessarily diving into organic certification. She advises customers to think beyond the labels and really learn about which farming practices truly produce healthy land and healthy food.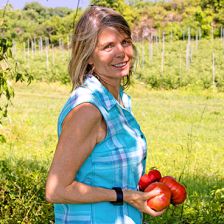 "We are extremely passionate about our farming standards and practice a whole-alive-systems approach. We deeply care and are devoted to our workers, land and energy conservation, and delivering healthy and delicious food to our customers."

Amy & Gail Hepworth
In Season Now
From Hepworth Farms
EXPLORE THE WORLD OF BALDOR