GoodHealthy, Sackets Harbor, NY
Local and Organic Food from the World's most Sustainable SmartFarm.
About GoodHealthy
GoodHealthy fresh produce is local and organic - grown year round on the world's most advanced SmartFarm. The farm is certified organic inside and out and only grows healthy food in a way that is good for the environment. GoodHealthy is grown in Sackets Harbor, NY and is shipped to Baldor within 24 hours of harvest. These unique organic roots with greens are more nutrient dense and flavorful than traditional lettuce. They are harvested as a living root and immediately washed in clean, cold water for greater freshness and shelf life.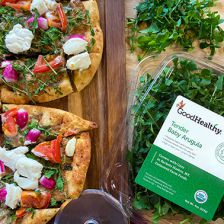 "We are proud to help connect our guests and staff to these delicious and innovative products from The North Country. The exceptional regularity in pristine quality and bursting-with-flavor, "petite" sized beets and radishes find many practical outlets on our menus at Gramercy Tavern."

Chef Mike Anthony, Gramercy Tavern
In Season Now
From GoodHealthy
EXPLORE THE WORLD OF BALDOR