Crescent Duck Farm, Aquebogue, NY
Genuine Long Island
About Crescent Duck Farm
In 1908, Henry Corwin started his duck farm with 30 White Pekin ducks on 25 acres of land in Aquebogue, Long Island. Five generations, six times the property and 106 years later, Crescent Duck Farms is still producing the highest quality ducks for discerning "white tablecloth" restaurants and the Asian trade.
Crescent's genetic, nutritional and processing techniques results in succulent ducks with consistently higher meat yields and excellent skin quality.
Crescent Duck spends a great deal of effort and energy towards the care of their birds, which involves both their inner health and outer well-being. Crescent ducks are fed a nutritionally enhanced diet consisting of corn, soybean meal and wheat. Vitamins, minerals and amino acids are used to enrich the diets. Hormones and antibiotics are never used to assist bird growth.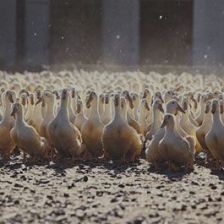 Long Island has a proud reputation of producing the finest duck in the world.

We take great pride in continuing this legacy.

Douglas Corwin, President
In Season Now
From Crescent Duck Farm
EXPLORE THE WORLD OF BALDOR