Atlantic Veal & Lamb, Brooklyn, NY
Producers of the world famous Plume De Veau.
About Atlantic Veal & Lamb
When Andy Balducci first thought of adding a meat department to the new gourmet store on 9th St. in Greenwich Village, he envisioned a one-stop-shop where the finest ingredients for any meal could be assembled under one roof. He had already upgraded Balducci's reputable fruit and vegetable stand, located across 6th Ave since 1946, by adding cheese, deli, coffee, pastry and fresh bread departments. By 1976 he was ready to add fresh meat and sought out the best butchers, buyers and the best meats. Plume de Veau (no pun intended) was the "feather in his cap". He touted the brand as if he created it himself, so infatuated was he with the rosy pink, ultra-tender, milk-fed veal. Raised in the European-style pens, Plume de Veau cattle tasted like Italian veal, with a light meaty flavor and buttery texture.
Baldor is a premier distributor of Plume de Veau today. The chefs we service are as demanding as Andy ever was – maybe even more so. If anyone is going to eat veal they want to know how the cattle are raised, what their diet and living arrangements are, and how humanely and healthfully they are cared for through harvest.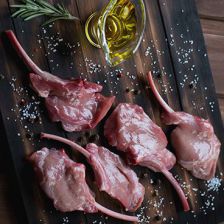 Between two products equal in price, function and quality, the better looking will outsell the other.

Raymond Loewy, CEO
In Season Now
From Atlantic Veal & Lamb
CUSTOM HARVEST PRODUCTS
EXPLORE THE WORLD OF BALDOR