Everything from Row 7 Seed Company to Look Out for This Season
Local Row 7 Seed Company is unlike any other company we work with. Built by chefs, seed breeders, and growers, who believed that vegetables could taste better right from the start, they were founded on the mission that we, as a community, can improve how and what we eat. Since launching in 2018, the team at Row 7, led by Chef Dan Barber and bBreeder Michael Mazourek, has focused on flavor and nutrition above all else, which they've achieved by working with a network of over 100 chefs and farmers, and more than 45 plant breeders, to develop spectacular non-GMO, 100% organic seeds.
The result of these chef-farmer-scientist collaborations? Seeds that grow into some of the most delicious, beautiful produce you'll find anywhere. And we get to experience the fantastic fruits (well, veggies) of their labor, since they're grown locally by many of our farmer partners and featured on the seasonal menus of the industry's most creative chefs. Read on for a taste of what you can look out for this summer and fall, including two new varieties headed our way for the first time this year.
Badger Flame Beets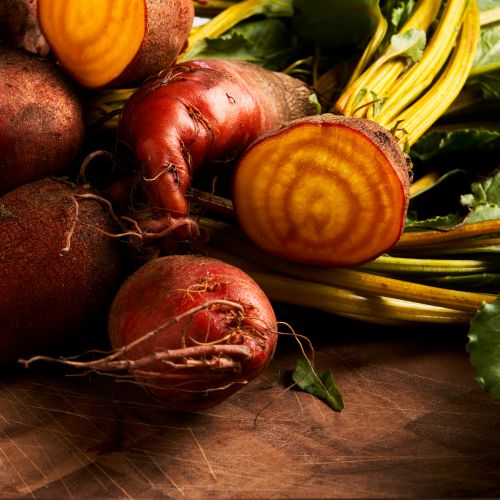 Badger Flames have the unique distinction of being adored by beet lovers and beet dissenters alike. Bright orange on the inside, these small roots are all sweet and crunch, with no polarizing earthiness to be found. They're just as good raw, as they are roasted, steamed, or grilled.
Beauregard Snow Peas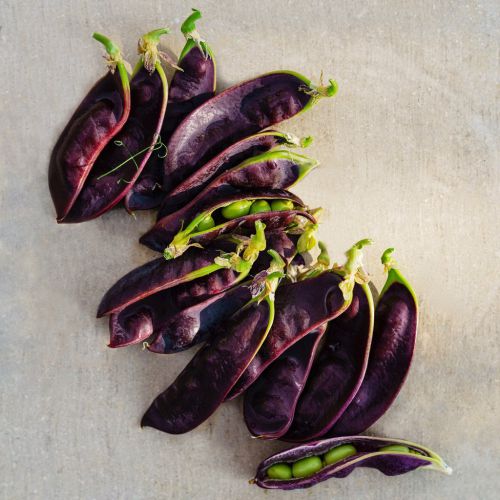 While it's hard to beat the deeply concentrated color of these snow peas, their flavor and nutritional values do just that. High in anthocyanin, a powerful antioxidant responsible for their purple color, with a vibrant flavor to match. And the best part? Their gorgeous color is here to stay – even once cooked. (Fun Fact: These peas got their name from the similarly-hued Violet Beauregarde of Willy Wonka and the Chocolate Factory fame.)
Photo Credit: Row 7 Seed

Centercut Squash
Bred from the tromboncino, an heirloom squash native to Italy, this long-necked vegetable is entirely edible. Meaty, dense, nutty, and sweet, the curvy green holds up, and shines, when halved, then grilled or seared. Good to know: Unlike the bottom bulb, the skinny top is completely seedless.
Tetra Squash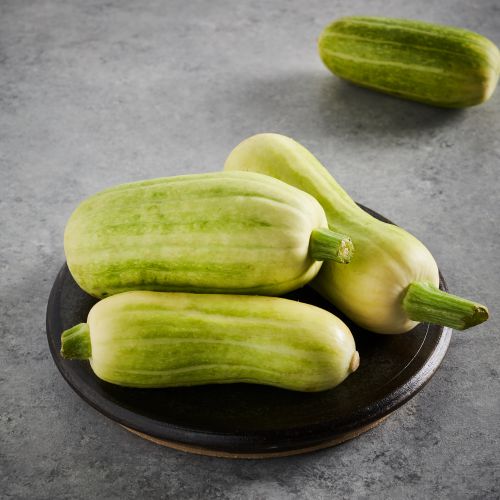 June - July (Immature), August-September (Mature) | Lancaster Farm Fresh
A star in the stem-to fruit-movement, Tetra Squash was bred to be enjoyed four different ways. First, the fruit: which is immature and crunchy in the early months, then a show-stopping, sweet delicata in its mature form. You probably won't be surprised to find out that the blossoms are phenomenal, too. But we bet you weren't expecting this: Tetra's are also bred for their tender, sweet, edible stems.
7082 Cucumbers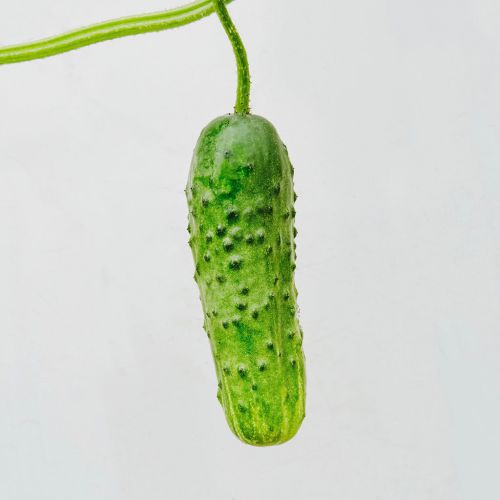 July - August | Lancaster Farm Fresh, Norwich Meadows Farm
Inspired by the cucumber memories of Norwich Meadows Farm's Zaid Kurdieh's childhood, stubbly 7082s come with a bright scent, a sought-after crunch, and a sweet intense flavor, with balanced bitter notes (something that might seem surprising, but makes all the difference). While eating them raw or pickled is hard to beat, Row 7 loves these cukes grilled and sautéed, too.
Photo Credit: Row 7 Seed
NEW FOR 2021: Midnight Roma Tomatoes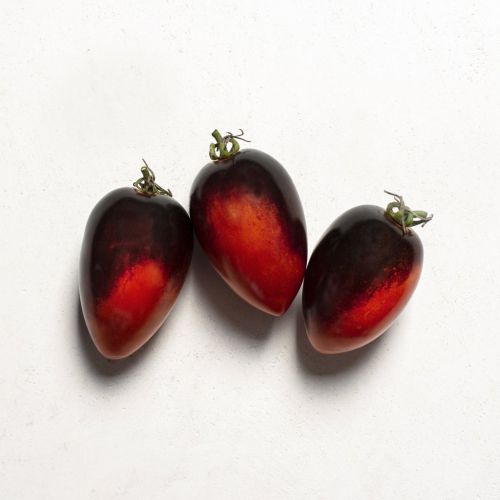 July - September | Alewife Farm, Norwich Meadows Farm
Gorgeous with a stunning resemblance to Christmas lights, deep purple Midnight Romas are a sight to behold, a joy to cook with, and a delight to eat. Sweet, acidic, and rich with umami, these are the tomatoes you want for sauce making, canning, roasting, and gazing.
Photo Credit: Row 7 Seed
Habanada Peppers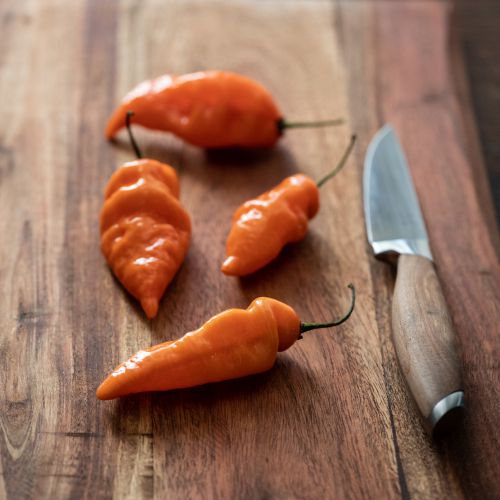 August - December | Kitchen Garden Farm, Taproot Farm
Habanero peppers are sweet and fruity, but many of the spice-averse among us have never come into contact with their special flavor profile – until the Habanada. These slender, small orange peppers have all the lovely melon-like, floral notes of the throat-burning habanero, but absolutely nada of the heat.
NEW FOR 2021: Patchwork Peppers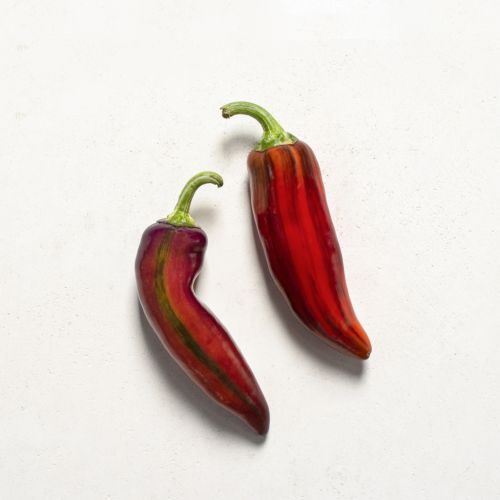 August - September | Norwich Meadows Farm
Patchworks stand out first for their red and orange color and deeply colored stripes, and then for their flavor, which sings with notes of citrus, green apple, and caramel. These small showstoppers can be cooked, but are extra special pickled, or served as is, on a summer crudités.
Photo Credit: Row 7 Seed
Upstate Abundance Potato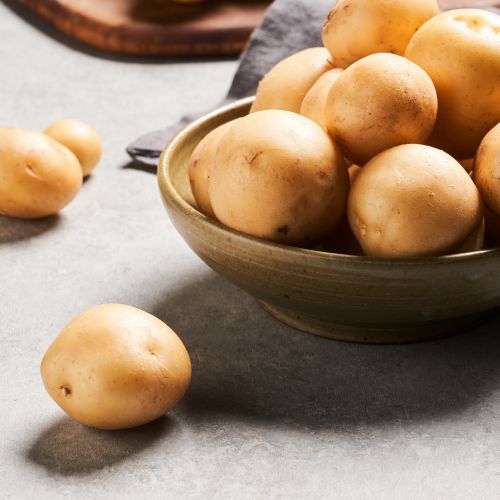 August - December | Norwich Meadows Farm
It's hard to believe now, but when Upstate Abundance were first discovered, they were considered too small for conventional market's needs (back then, they were called NY 150s). These days, the Upstate finally gets its due , thanks to its bright white flesh, creamy texture, nutty notes, and the fact that it tastes super buttery, post-boil or roast, even sans-butter.
898 Squash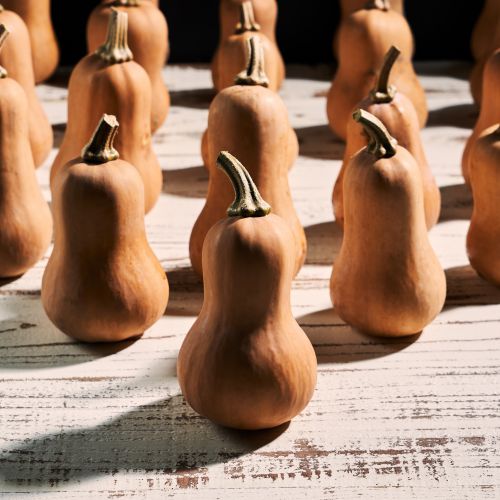 September - December | Lancaster Farm Fresh, Norwich Meadows Farm
898s are the little, little cousin of the everyday butternut. Tiny (they're easily considered personal-sized), but super concentrated in flavor and sweetness, these are everything we dreamed a squash could be. And as if they couldn't get any better, they're bred to last longer storage than the Honeynut, the famous mini squash the 898 was born from.
Robin's Koginut Squash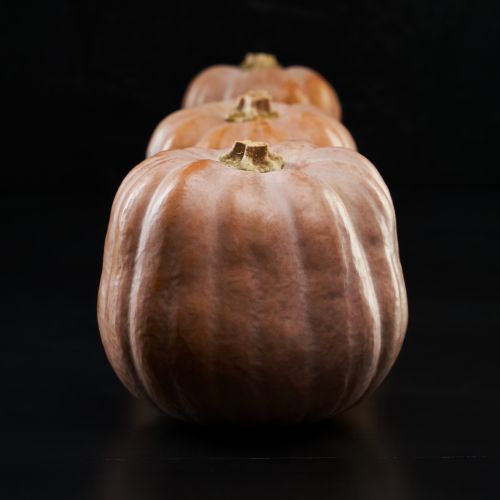 September - December | Alewife Farm, Lancaster Farm Fresh, Norwich Meadows Farm, Pedersen Farms
The hybrid of two well-loved squash, the roasted Robin's Koginut, is everything we could want in a squash: Smooth, with an unmistakable, intense squash flavor, a sweetness that caramelizes under heat, and a long storage life. Their texture makes them amazing for puréeing once cooked, for pies and souffles, and for simply roasting and serving.