More About This Product
Raised in Sullivan County, N.Y. La Belle ducks are cage-free, roaming in huge barns for most of their life. This Moulard Duck breast is from the Moulard duck, prized by discriminating chefs for their intense flavor. Bella Bella's Moulard ducks reach mature weight at an earlier age, giving them unmatched tenderness and exceptional richness. For this reason, Magret can be used in recipes as if it were beef. Best to pan saute to medium rare, letting the skin bronze to delicious crispness, then slicing on the bias.
Product Details:

Size: 1 X LB
Country of Origin:

United States of America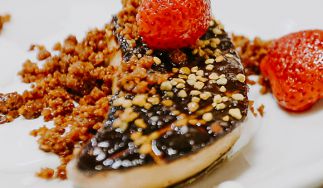 La Belle Farm Inc, located in picturesque Sullivan County, New York has been in operation since 2000. We raise / produce Organic Air-Chilled Chickens, Antibiotic Free Air-Chilled Chickens, Air Chilled Poussin, Moulard Ducks, Foie Gras, Barbarie Cross Ducks, Guinea Hen, Quail, Kosher Chickens, and...
Learn more about La Belle Farm