Knorr, Englewood Cliffs, NJ
Created by Chefs for Chefs.
About Knorr
High quality is our food philosophy – one that's been years in the making. Our story starts back in 1838, when Carl Heinrich Knorr opened a factory in Heilbronn, Germany, supplying chicory to the coffee industry.
He began to experiment with drying vegetables and seasonings, to preserve nutrition and flavor, leading, in 1873, to the launch of the first Knorr® dried soups across Continental Europe.
And then there was Bouillon
In 1912, we introduced something really exciting; the first Knorr® Bouillon cube. Now, families could enjoy delicious dishes at home without the need to make stock from scratch. This humble little product proved a hit! Just one example of how, with dedication and a lot of love, we always endeavor to help you cook better meals every day.
Flavors of the world
Knorr® is available around the world and in every country. We pride ourselves on a genuine understanding of local flavors, providing great tasting favorites and helping you sample authentic flavors from other cultures.
In 1957, flagship Knorr® brands like bouillon and soups were sold in 8 countries and by 2000, Knorr® products were sold in nearly 90 countries around the globe. This led us to an important milestone that same year when Knorr® joined the Unilever family.
Always searching for the best flavors
Today, our kitchens are playgrounds to hundreds of real chefs, and passionate experts who work together to hone recipes that help you serve up tasty meals time and again.
We always strive to discover new ways to make your meals memorable, with clever ideas and products. We go to extraordinary lengths to get the best flavors from ingredients, and we embrace global cuisines. Our love of food is what drives us; our aim is to help you create good, simple food that's full of flavor.
A sustainable future
It's this commitment to providing you with the highest quality food that now leads us to a new future, one that embraces sustainability.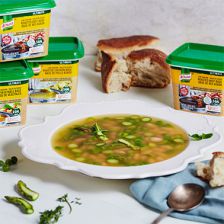 "Guests expect great taste but demand clean ingredients. Trust Knorr Professional for superior taste, performance, and convenience."

Unilever Food Solutions
EXPLORE THE WORLD OF BALDOR