Ronnybrook is a local Hudson Valley Dairy that raises their own cows, feeds them with feed grown on their farm and milks them they do it all. We pick up from Ronnybrooks farm every weekday so their milk moves from cow to table in little more than a day. Milk cant get any fresher than that unless you milk the cow yourself. Their Chocolate Creamline Milk is made with 100% natural chocolate and is the only chocolate milk rated excellent by the New York Times.
Product Details:

Size: 1/2 GAL
Country of Origin:

United States of America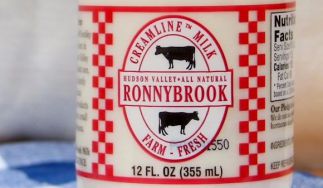 The Ronnybrook family has been in business for over 70 years and they manage every phase of milk production – from farm to the cows to the bottling plant – with no third parties involved. During the spring, summer, and fall, their cows feed primary on fresh pasture that grows on...
Learn more about Ronnybrook Dairy