Stunning stem ribbons of pink, yellow and orange-red distinguish gorgeous rainbow chard. The stem color continues right through the leaf veining. These colors darken when cooked but the beet-like flavor sweetens some. The leaves themselves are broad and fan-like, thick and juicy. Swiss chard shrinks a lot when cooked - a raw pound becomes about a cup cooked so plan your dishes accordingly. Lancaster Farms' organic cultivation yields a very flavorful chard -and one that can also be sliced up raw for salads.
Product Details:

Size: 24 CT
Country of Origin:

United States of America local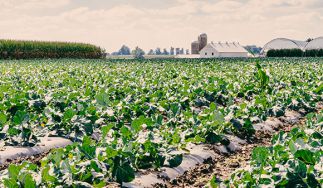 Lancaster Farm Fresh Cooperative (LFFC) is a non-profit organic farmer's cooperative of about 100 small scale farmers working 350 acres in Lancaster County, Pennsylvania. They focus on creating healthy, high quality foods from their strictly maintained and enriched soils on their family...
Learn more about Lancaster Farm Fresh