Belly Skinless Rib Meat on Boneless. This cut has the spare ribs removed and all the rib meat left on the pork belly. Normally this cut is sold when the customer wants a thicker and meatier belly. It is most popular in the Asian segment of the business sometimes known as a Chinese style cut belly. It is also a very popular cut braised or slow cooked to render down the fat into the meat giving this item great flavor. Then it can be cut into 1 cubes or desired size, pan seared until the meat is caramelized and crispy. Also great Sous Vide diced into small pieces and Wok Fried served on thin flatbread with Hoisin Sauce. This item when used in a thin flatbread or tortilla, can be a great street food in Asian culture or spiced up to create a Mexican version pork belly taco.
Product Details:

Size: 1 X LB
Country of Origin:

United States of America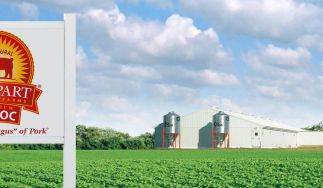 Premium quality Compart Duroc® Pork is the result of a carefully managed pork breeding program. Compart Duroc® hogs are bred, born and raised on small farms where family members are involved in the day-to-day management of their stock. The breeding program is the result of over 65...
Learn more about Compart Family Farms